---
---
---

Guess the Most Hits - Answer!
It's Bob Barker, of course!
Here is the final top 10 list.
| Place | Name | Hits |
| --- | --- | --- |
| 1st | Bob Barker | 460,115 |
| 2nd | Lady X* | 438,444 |
| 3rd | Shirley Temple | 401,147 |
| 4th | Jean Calment | 397,083 |
| 5th | Kirk Douglas | 391,792 |
| 6th | Doris Day | 372,658 |
| 7th | Baby Fae | 344,498 |
| 8th | Ruby Muhammad | 318,175 |
| 9th | Clint Eastwood | 317,661 |
| 10th | Billy Graham | 316,401 |
* Lady X's real name will be revealed in another contest
Here's how the responses break down. The first person to guess Bob Barker did so after clue #6 on June 4th. His initials are R.E. and in order not to spoil the surprise for him he wasn't told ahead of time. Of course, in the last day or two, many other people guessed Bob Barker. But most guessed Dick Van Dyke, and that would have been the webmaster's guess, too, if he didn't already know the answer. Dick Van Dyke fit the criteria through clue #9 equally well and is definitely very, very famous. Kirk Douglas was also a possibility, but whether he qualifies as tall and slim is debatable. Lots of people guessed Clint Eastwood, even though he's number 9 on the list and therefore can't be number 1.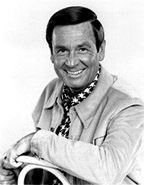 Bob Barker
Wikimedia Commons
[Public Domain]
By the way, according to websites, both Bob Barker and Dick Van Dyke are 6'1" and around 185 pounds. It's unknown how old that information is and it's certainly possible since they are both over 90 that they might weigh less than they used to.
Why is Bob Barker number 1 overall out of 7921 names? Obviously it's helpful that he has been on the list since the day the site debuted, but who knows why he is number 1. Why Lady X is number 2 is another good question. By the way, Dick Van Dyke has 265,026 hits and is ranked 21st on the list.
If you are one of those who guessed Bob Barker, congratulations. And even if you didn't, if you had fun, that was the main thing.
© Copyright 1998 - 2019 by Kentix Computing